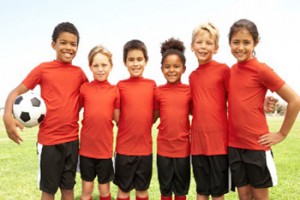 You're here because you know how important it is to give your team a unique, memorable space online! You can choose from the traditional extensions like .com, .org., or .net or try one of the newly ICANN approved ones. In late 2015, the ".team" domain will be released, so reserve  your gotta-have-it name now!
YourDomainPick can help you not only settle into your very own corner of the internet, but help you make it a home. Your website might just be able to do way more than you can even imagine, and do it more quickly, securely, and reliably than a subscription based cookie-cutter team website.
Communication is so important, especially in youth sports. How many times have you had to change your venue or time, or had to get out a weather delay or cancellation? Instant Messaging, texting and email are still highly preferred method of getting the word out so you're going to need a few mailboxes. Get your calendars, contacts and synchronized across everyone's devices all from within your private domain.
Use your website to post messages, photos, scores, statistics, you name it! Need some help? Our Website Builder will painlessly walk you through the process . All our hosting plans include more that three hundred templates and over 2000 options for design. Free stock images, a built-in photo gallery for all your action shots, Google webmaster tools and email.
Security is a big issue for the big hosts; you never know when security rules will change, nor do you always know how your personal data is shared. With your own domain/website/email setup, it's all locked down exactly to your specifications.
With our online calendar feature you can share every game and event occurrence, manage schedules, plan ahead as a team and much more! As long as your team members can get online with a computer or mobile device, you are good to go.
YourDomainPick is your all-in-one solution for a reliable and effective website. It's stable, easy to use and value priced.
Reach your constituents, fans, parents, league and  players with a great website on a personalized domain! We offer you the flexibility and features you need to make your presence known online.
Finding your Domain Name
Step one is to come up with a perfect domain name. the obvious starting point for an athletic team is to use your moniker as a base. "Lions" or "Mighty Mongeese" can provide the core of your name. If your players are designated by grade or birth year, you could specify "8thgrade" or "2001Mongeese." If your base name is taken already, try using phrases like "go-lions" or "HomeoftheMongeese."
Be sure to choose on that will last for quite a while as this will be your home on the web for hopefully more than one year. Take a look at our article "How to Dominate Your Domain Name Search." for more.
Enter your choices in the search box on YourDomainPick to see if they are still available. "golions.com" isn't available now, but "runlions.com" and "golionsgo.club" is on the market as of this writing! You can always add an easily remembered number or word that makes your domain unique.
YourDomainPick compares your request with all the available names in a giant database of registered domain names to see if someone else got there first. Be sure to create a few choices in case your first one is gone.
Once you register your special team domain, you own it for a modest annual fee. Most of the time it costs less than two or three dollars a month. Renew it every year, or you can reserve it for up to 10 years on YourDomainPick.
Need to transfer in a too-expensive domain name? it's easy on YourDomainPick.
Transfer in domain names you already own for big savings, free extra features and second-to-none service! It only takes three easy steps:
Go to our "Transfer domains" page and enter the domain name you'd like to transfer
After purchase, you'll receive an authorization email
Check your inbox again for confirmation message.
You'll get significant savings over the competition, a lot of free extras and great service like our Transfer Concierge number: 1-480-505-8866.
It's time your team domain name / website / email became a winner! Register today with YourDomainPick!