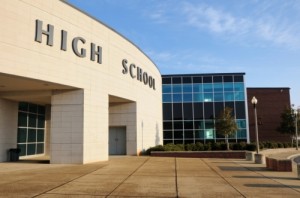 Schools do a LOT of communicating. Make it easier to get the word out by reserving your very own unique school domain name! It's memorable, builds credibility and best of all it can be as private as you want. Your domain name gives you the exclusive right to use your URL and extension for all data you exchange over the internet.
There are many great reasons for owning your own domain. For schools, it may seem unprofessional to access your online resources by logging into a third party address. Here are some other reasons: Domains are valuable. Schools sometimes have similar names, so the competition for a simple domain and extension can be fierce. "MLKschool.com" for example is currently worth almost $500.
You control how visible you are. You can't be too careful in the school environment! Protect your photos, student work, records, forms or any other sensitive material from unauthorized use by locking it down with Your Domain Pick's School domain name options. Once you have your domain name registered, you'll need to plan for any websites you'd like to publish. How does a one-stop, stable, easy-to-use process sound? Your Domain Pick can deliver all that and more at value pricing. Flexibility, scalability and robust features are yours when you use our Website Builder feature.
Start the entire process by doing a search on a domain name that resonates with your constituency. Remember that they will have to type it into a browser, share it with friends, and see it in any published link so make it brief and memorable. A school domain name has two parts: the name itself and the extension after the "dot." Our domain name is "YourDomainPick" and the extension is "com." There are many extensions to choose from, some of which are pending release. Read our article entitled "How to Dominate Your Domain Name Search" for more suggestions about brainstorming the perfect school domain name.
Once you register your name, you can own it for as long as you like. You can renew your domain from one to ten years at a time. In addition, you can bulk register domains if you need multiple similar domains. Already have a web domain but paying too much? Transfer them to Your Domain Pick for big savings, lots of free add-ons, and great service! Did you know there are several levels available from Your Domain Pick?
Private Domain Name registration:
ICANN (Internet Corporation for Assigned Names and Numbers) has a policy that every domain name registration's vital details are accessible to anyone who searches "Whois."  Your street  address, phone number, email addresses, everything! Your Domain Pick's Private Domain Name Registration gives you:
A domain that is under the name" Domains By Proxy," so Whois shows their contact information, not yours.
You have complete control of your domain. You can cancel, sell your domain to someone else, renew, or transfer it elsewhere.
You control all email addressed to your domain with Domains By Proxy's patented registration and email handling systems.
Deluxe Domain Name registration
Not only do you have access to what's included in the "Private" level, The real plus of Deluxe Registration is its tracking of traffic stats,  rankings, domain name auctions and appraisals, and a screen shot of your website.
Business Domain Name Registration
Here's what the "Business" level provides:
FREE Online Business Card website shows your school's name, logo, up to four links, phone,  address, hours, directions, and even pictures when searchers peruse "Whois."
Help visitors find you with a street map (international mapping available for 67 countries).
Give new visitors details or a special welcome
Want to sell your domain name? Business Registration includes domain auction and appraisal information from YOUR-DOMAIN-PICK! Auctions®.
Get started now by initiating a search for your domain name, then think about what you want to do with it. Use our website builder to create a space for your calendar, email center, photo galleries and more!