Nonprofits have a keen interest in keeping a high profile among their constituents. In addition to ads, literature, events, print media and so on, publicizing a website can be a major element in any strategy to get the word out. Owning the rights to a website with the organization's name featured prominently is very important.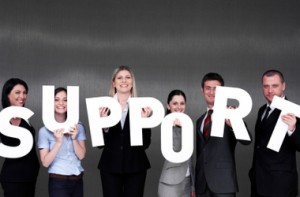 As people increasingly use the internet to gather information, nonprofits need an online presence as much as any for-profit business. A memorable, branded website raises your prestige and credibility with visitors just as it would for a commercial enterprise.
What are nonprofit domain names?
It's the series of characters- letters and / or numbers- that make up part of your web address, or URL (universal resource locator). There are two parts, the domain name itself and an extension after the "dot." Until recently, the overwhelming majority of extensions in the U.S. were .com, .net, .org, .gov, and .edu. So many domain names have been registered with those five extensions that it has become very difficult to acquire one that exactly fits your group. Paying a premium, adding extra numbers or letters or abbreviating your name have been the only options until now.
Now that ICANN, the international governing body overseeing domain extensions, has released hundreds of new ones, the options for crafting the perfect domain for your website is much easier. A memorable web address for communication and promotion is paramount. It should match your name or mission as closely as possible while remaining brief and snappy enough to stick in peoples' minds.
Initially, nonprofit domain names used the .org extension almost exclusively, and that supposedly made for a more organized internet. Here in the U.S. we are conditioned to assume that a website can be found with ".com" at the end, hence there are probably millions of websites under that domain. Now, with the onset of a myriad of new extensions, businesses are using .biz, .info, and .co.
Other than the fact that we Americans are habituated to assume that all reputable websites should have .com at the end, there's no reason to stay away from the newer extensions as long as it's not too hard to remember.
How much do nonprofit domain names cost?
A reasonably good domain name could set you back as little as $10 if the name you want is not already registered and held by a speculator. The really good ones can go up for auction or sale and may fetch a surprisingly high price. So far, the top three non-sex-related domains of all time are Fund.com ($9.9 million), Diamond.com ($7.5 million), and Slots.com ($5.5 million). A quick check on Your Domain Pick's search tool can tell you if your preferred domain is available, how much it's worth, and suggestions for different wording or extensions if you want to tweak it a bit.
Every time you send an email, paper letter, put up posters, run a radio or TV ad, your website address is the takeaway. The era of the easy toll-free phone number is fading fast! So how do you register a domain name so that your website has a name that sticks?
Your Domain Pick gives you an easy search tool to locate your name and cost to register. Send it to your cart with a click, and when you are ready to check out, you can choose any options you'd like, such as levels of security, a low cost website builder, hosting space, and email.
Your Domain Pick also offers marketing tools to help you take donations, communicate with donors, and raise your visibility on search engines. You can also transfer your domain name to Your Domain Pick if you're paying too much for your current one.
Search today for your domain on YourDomainPick.com!